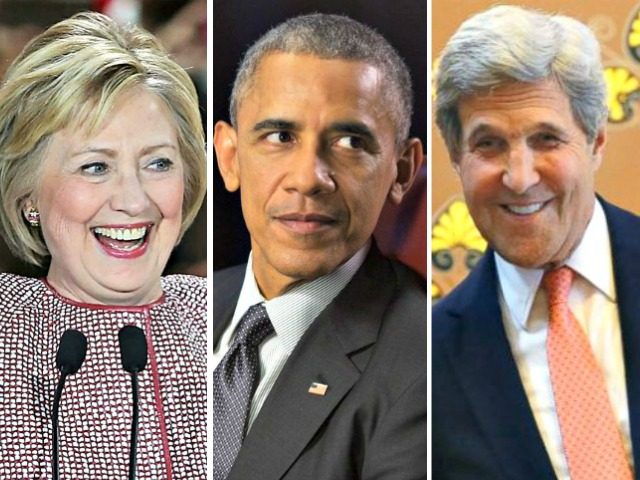 NEW YORK — Documents released on Saturday related to the wiretapping of former Trump campaign adviser Carter Page reveal information that contributed to the government's application to monitor Page originated with the State Department under the Obama administration in October 2016.
That detail may be particularly relevant since numerous officials from John Kerry's State Department have been fingered for playing roles in the distribution – and in one case, possibly also the compilation – of the largely discredited, 35-page anti-Trump dossier which focused in significant part on Page.
Much of the interaction between the State Department and the dossier author took place just prior to the October 2016 date mentioned in the newly released Page documents. Dossier author Christopher Steele, a former British spy, was commissioned to produce the questionable document by the controversial Fusion GPS opposition research firm, which was paid for its anti-Trump work by Hillary Clinton's 2016 presidential campaign and the Democratic National Committee.
State Department official Jonathan Winer admitted to exchanging documents and information with Steele, and passed the dossier contents to other officials at the State Department.  Winer also admitted to receiving information from Clinton associate Sidney Blumenthal that originated with Cody Shearer, a shadowy former tabloid journalist who has long been closely associated with various Clinton scandals. Winer conceded that he passed Shearer's anti-Trump material to Steele.
On Saturday, a heavily redacted version of the Foreign Intelligence Surveillance Court (FISA) application along with several renewals were released in response to Freedom of Information Act (FOIA) requests.
Most of the more than 400 pages were redacted. The second bullet point in each of the applications reveals that the information of Page's "status" was first provided to the FBI by the State Department in October 2016.
That section states:
The target of this application is Carter W. Page, a US person, and an agent of a foreign power, described in detail below. The status of the target was determined in or about October 2016 from information provided by the US Department of State.
The rest of that section is redacted. Unredacted sections in the application do not provide any further clues about which information was provided by the State Department.
First there is State Department official Winer. After his name surfaced in news media reports related to probes by House Republicans into the dossier, Winer authored a Washington Post oped in which he conceded that while he was working at the State Department he exchanged documents and information with dossier author and former British spy Christopher Steele.
Winer further acknowledged that while at the State Department, he shared anti-Trump material with Steele passed to him by longtime Clinton confidant Sidney Blumenthal, whom Winer described as an "old friend." Winer wrote that the material from Blumenthal – which Winer in turn gave to Steele – originated with Cody Shearer.
Winer served under Bill Clinton's administration as the U.S. deputy assistant secretary of state for international law enforcement. He wrote in his Washington Post oped that he rejoined the State Department in 2013 at the insistence of John Kerry. Read more of this article »