i24NEWSLatest Revision July 04, 2019, 3:28 AM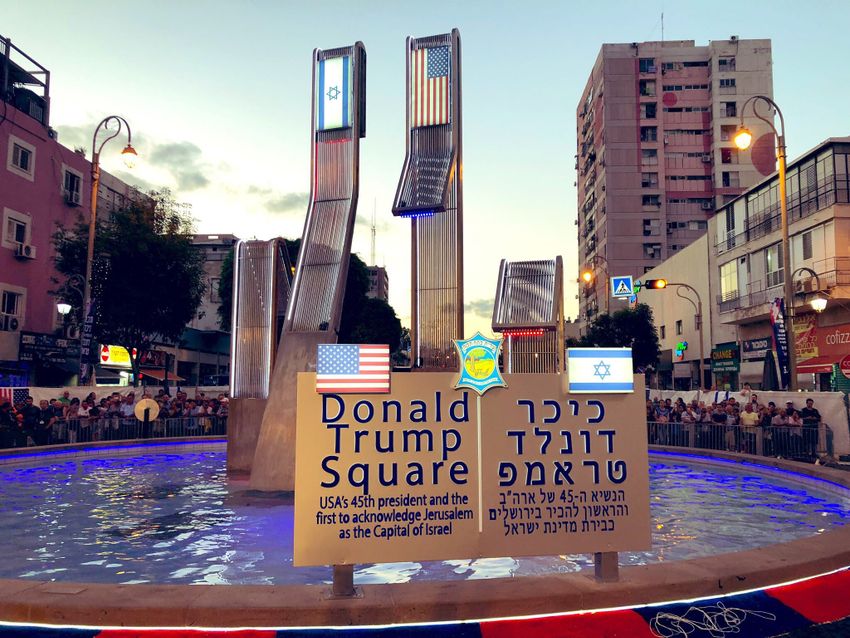 Petah Tikva inaugurates 'Donald Trump Square' in honor of US president's support for Israel
The city of Petah Tikvah in central Israel inaugurated "Donald Trump Square" on Wednesday, a day before US Independence day, in honor of Trump's recognition of Jerusalem as the capital of Israel.
The roundabout near the city's municipal building features a water installation with statuesque structures bearing the Israeli and American flags illuminated by colorful florescent lighting.
A placard in both Hebrew and English commemorates Trump as "the first to acknowledge Jerusalem as the Capital of Israel".Israeli city inaugurates 'Trump Square'
Petah Tikvah's "Donald Trump Square" is the latest piece of Israeli real estate to be named in honor of the US president's support for the Jewish State.
Last month, Israeli Prime Minister Benjamin Netanyahu inaugurated Ramat Trump (Trump Heights in English) in the Golan Heights after the Trump administration recognized Israeli sovereignty over the disputed area.
The square near the site of the new American embassy in Jerusalem is also to be named in honor of Trump, while Israel's transport minister has said that a new train station near the Western Wall — Judaism's holiest site — will soon bear the US president's name.
Central Israeli city inaugurates 'Donald Trump Square' in honor of US president https://www.i24news.tv/en/news/israel/1562219587-central-israeli-city-inaugurates-donald-trump-square-in-honor-of-us-president?